[22.08] Semestri Avalöök
August 22, 2022 @ 22:30

-

04:00

10€ – 20€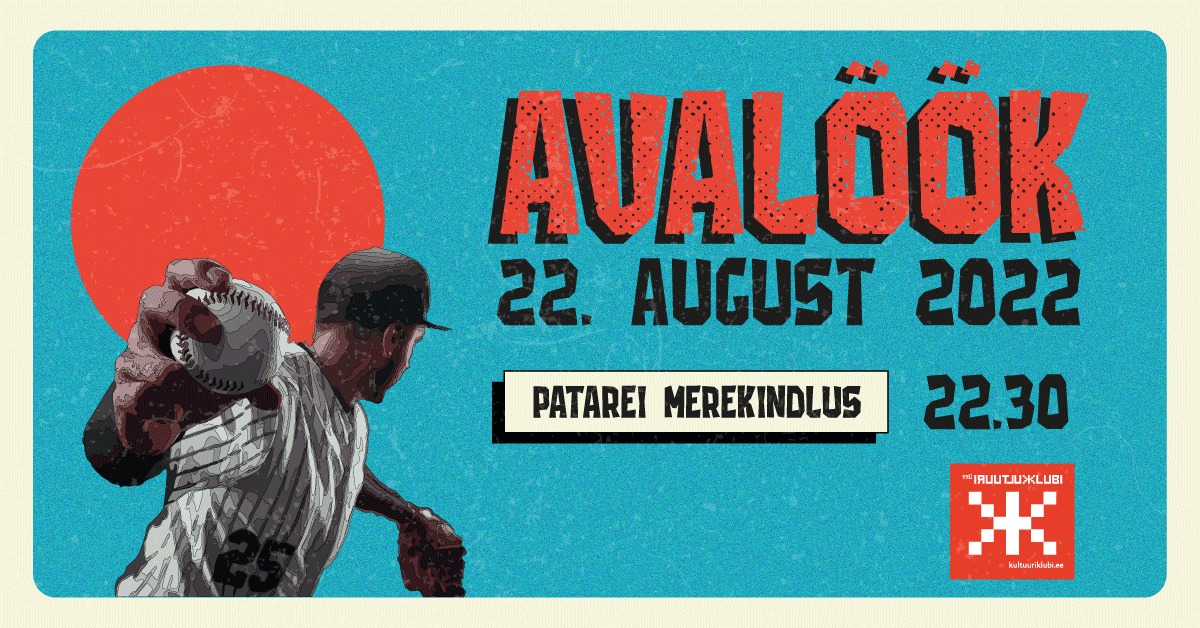 ↓ !ENGLISH BELOW! ↓
Ja ongi kohe käes see suurejooneline sügis!🍁
↓ Semestri Avalöök on 1. samm kolmest, et saada rebasest täistõuliseks tipikaks ↓
TalTech Kultuuriklubi korraldatav tudengiellu sissepühitsemise üritustesari TRILOOGIA saab alguse ühe imelise üritusega: Semestri Avalöök 2022! 🥊🥊
Tõmbame üheskoos uue kooliaasta käima megabängeri peoga, 🍾mis paneb lõppenud suvele meeldejääva punkti ja annab algavale semestrile vägeva Avalöögi! TRILOOGIA esimese verstaposti edukaks läbimiseks tuleb sammud seada Patarei Merekindlusesse 🌊 ning nautida õhtut täiel rinnal uute ja vanade sõprade seltsis.
NB! Peole on oodatud kõik, olenemata tudengistaatusest.
———————————————————————
PILETID:
🎟 10 € varajane linnuke
🎟 12 € õigel ajal jaole saanud linnuke
🎟 15 € hiline linnuke
🎟 20 € liiga hiline linnuke/kohapeal
LINK: https://gateme.com/avalook/97075-semestri-avalook-2022/
———————————————————————
LINE UP
Välilava:
🎤 villemdrillem
youtu.be/muk0rNpYggs
instagram.com/villemdrillem/
🎤Pluuto
youtu.be/RSVVaBGs7fY
instagram.com/pluuto/
🎤Heleza
youtu.be/tyELgrVIu1w
instagram.com/heleza/
🎤 Notitz
soundcloud.com/user-362090422
instagram.com/notitzmusic/
🎤2orkiz
instagram.com/2orkiz/
🎤Kendik
soundcloud.com/kent-marcus
instagram.com/kentmarcus/
🎤PHV
instagram.com/vladlenpahv
Siselava:
🎤Löukii x Birddy (one time special 6h set)
instagram.com/l6ukii
soundcloud.com/l6ukii
instagram.com/djbirddy
soundcloud.com/djbirddy
Tegu on 18+ üritusega, sissepääs vaid dokumendi alusel!
Uksed: 22.30 🚪
———————————————————————
Kallid rebased: 🦊
Ärge unustage enne pidu minemast TalTech Üliõpilasesinduse poolt korraldatavale seiklusrohkele orienteerumisele, mis viib teid kurssi TalTech campusega, tutvustab erinevaid tudengiorganisatsioone ning mille raames kohtud esimest korda kõigi oma kaasrebastega. Algus 15:00 TalTech UFO platsil (rahvusvahelistel tasemeõppe tudengitel 16:00).
Evendi link: https://fb.me/e/53OqW0oMd
Näeme tantsuplatsil!! 🕺
>>>>>>>>>>>>>>>>>>>>>>>>>>>>>>>>>>>>>>>>>>>>
!ENGLISH!
This crazy autumn is just around the corner! 🍁
↓ "Semestri Avalöök" is first step out of three, to become a full valued student↓
TRILOGY, the event series organized by TalTech Culture Club, begins with a wonderful event: Semestri Avalöök 2022! 🥊🥊
The school year begins with a memorable party 🍾 to end the summer and kick-off a great new semester. To successfully pass the first milestone of the TRILOGY, you must come to Patarei Merekindlus 🌊and enjoy the company of your old friends and new friends.
NB! Everyone is welcome at the party, regardless of the student status.
———————————————————————
TICKETS:
🎟 10 € early bird
🎟 12 € regular bird
🎟 15 € late bird
🎟 20 € extra late bird
LINK: https://gateme.com/avalook/97075-semestri-avalook-2022/
———————————————————————
LINE UP
Outside stage:
🎤 villemdrillem
youtu.be/muk0rNpYggs
instagram.com/villemdrillem/
🎤Pluuto
youtu.be/RSVVaBGs7fY
instagram.com/pluuto/
🎤Heleza
youtu.be/tyELgrVIu1w
instagram.com/heleza/
🎤 Notitz
soundcloud.com/user-362090422
instagram.com/notitzmusic/
🎤2orkiz
instagram.com/2orkiz/
🎤Kendik
soundcloud.com/kent-marcus
instagram.com/kentmarcus/
🎤PHV
instagram.com/vladlenpahv
Inside stage:
🎤Löukii
instagram.com/l6ukii
soundcloud.com/l6ukii
🎤Birddy
instagram.com/djbirddy
soundcloud.com/djbirddy
———————————————————————
The event is 18+, ID document required at the gate!
Doors: 22.30 🚪
———————————————————————
Dear Foxes: 🦊
Before the party, don't forget to go to the adventurous orientation organized by the TalTech Student Council, which will introduce you to the TalTech campus, and various student organizations, during which you will meet all your fellow foxes for the first time. Start is at 16:00 for international students at the TalTech UFO square (15:00 for Estonian students).
Event link: https://fb.me/e/53OqW0oMd
See you on the dance floor!! 🕺