[15.09] Topelt Rebaste Pidu
September 15, 2022 @ 23:00

-

05:00

8€ – 12€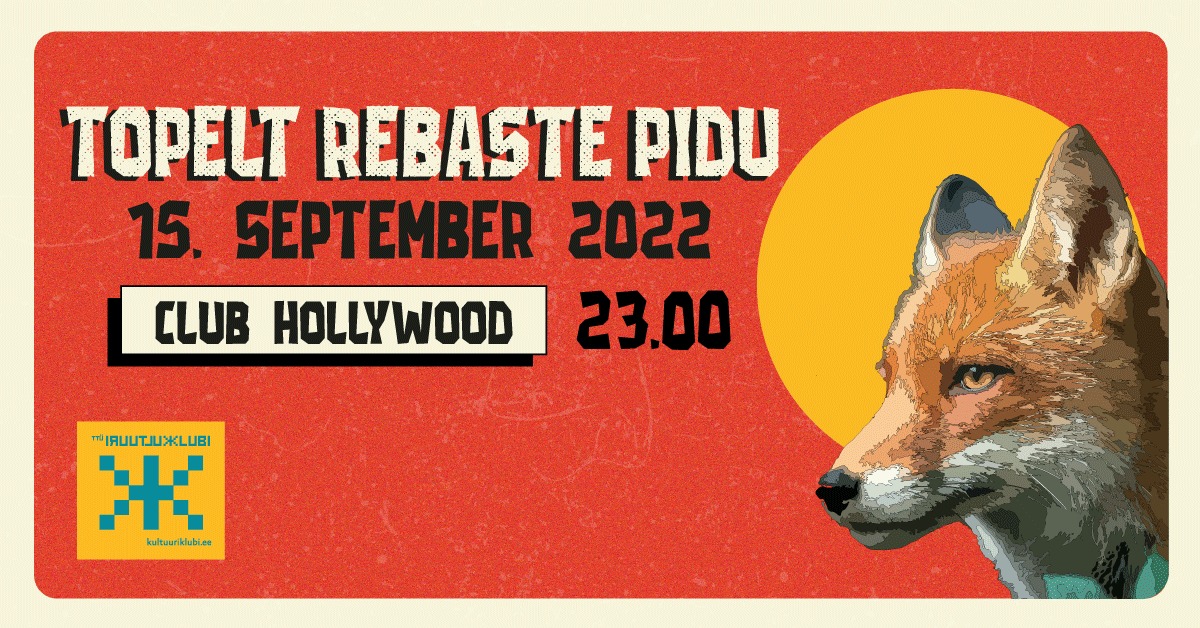 🇪🇪 𝐓𝐎𝐏𝐄𝐋𝐓 𝐑𝐄𝐁𝐀𝐒𝐓𝐄 𝐏𝐈𝐃𝐔
Auuuuuu kõik rebased!! 🦊🦊
↓ "Topelt Rebaste Pidu" on 2. samm kolmest, saamaks rebasest täistõuliseks tipikaks: ↓
Kõik REBASED ja REBASEMEELSED, see pidu on Teile, sest käes on aeg, et teha rebastest ühed pöörased tipikad ❗️Selleks koguneme klubisse HOLLYWOOD, kus paneme kõik rebased tantsupõrandal üheskoos ulguma, et otsida endast välja tõeline tipikas. 🍾
NB! Peole on oodatud kõik, olenemata koolist ja tudengistaatusest.
Näeme tantsuplatsil!! 💃
🇬🇧 𝐓𝐎𝐏𝐄𝐋𝐓 𝐑𝐄𝐁𝐀𝐒𝐓𝐄 𝐏𝐈𝐃𝐔
↓ "Topelt rebaste pidu" is 2nd step out of three, to become a full valued student↓ 🦊🦊
All FOXES and FOX LOVERS, this party is for you, because it's time to party! To successfully pass the second milestone of the TRILOGY, you must come to club HOLLYWOOD, where we will make all the foxes howl together on the dance floor.
NB! Everyone is welcome at the party, regardless of the student status and school.
See you on the dance floor!! 💃
▬▬▬▬▬▬▬▬▬▬▬▬▬▬▬▬▬▬▬▬▬
🇪🇪 𝐏𝐈𝐋𝐄𝐓𝐈𝐃:
🎟 8€ varajane rebane
🎟 10€ õigel ajal jaole saanud rebane
🎟 12€ hiline rebane/kohapeal
LINK: peagi tulemas!
🇬🇧𝐓𝐈𝐂𝐊𝐄𝐓𝐒:
🎟 8€ early fox
🎟 10€ right on time fox
🎟 12€ late fox/on spot
LINK: coming soon!
▬▬▬▬▬▬▬▬▬▬▬▬▬▬▬▬▬▬▬▬▬
🔥𝐋𝐈𝐍𝐄-𝐔𝐏
💿Siimi
instagram.com/djsiimi/
soundcloud.com/djsiimi
💿Lill
instagram.com/lilbitgert/
soundcloud.com/oiei
💿Löukii & sõbrad
instagram.com/l6ukii
soundcloud.com/l6ukii
💿Birddy
instagram.com/djbirddy
soundcloud.com/djbirddy
💿Kendik
soundcloud.com/kent-marcus
instagram.com/kentmarcus/
💿PHV
instagram.com/vladlenpahv
💿9bit
soundcloud.com/96it
instagram.com/andrei.liberson