[30.09] Tudengkonna 102. sünnipäev
September 30, 2022 @ 22:00

-

05:00

13€ – 20€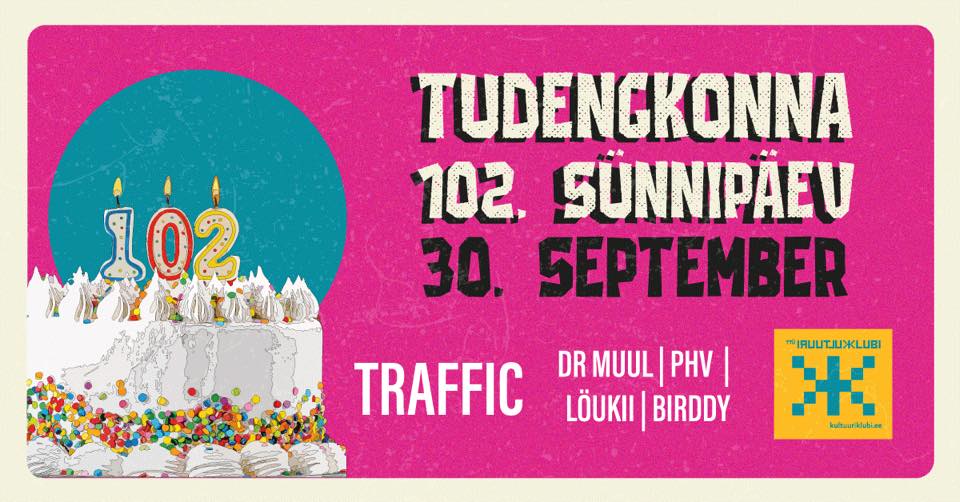 ↓ !ENGLISH BELOW! ↓
Can you frickin' believe it….kätte on jõudnud viimane pidu meie suurest triloogiast! 🥳
↓ "Tudengkonna 102. sünnipäev" on 3. samm kolmest, saamaks rebasest täistõuliseks tipikaks: ↓
Pidude triloogiale paneb VÕIMSA punkti suurejooneline ja LEGENDAARNE parklapidu, 🅿️mis on suurim omalaadne Eestis! Sünnipäeva tähistamiseks seame sammud TalTechi maa-aluse parkla poole (Akadeemia tee 7/1 ja 7/2 vahele). Tudengkonna 102. sünnipäevale on oodatud kõik tudengid, tudengimeelsed, õppejõud, vilistlased ja ka teiste koolide esindajad, et üheskoos pidada maha simman, mis jääb meelde igaveseks! 🍾
Sünnipäevale tuleb mussi mängima ja maa all pidulisi hullutama ei keegi muu kui Tipikate suur lemmik Traffic !! 🤩
PS! Kui sa pole käinud parklapeol, siis sa pole õige tipikas! 👎
NB! Peole on oodatud kõik, olenemata tudengistaatusest.
———————————————————————
PILETID:
🎟13 € varajane sünnipäevaline
🎟17 € õigel ajal jaole saanud sünnipäevaline
🎟20 € hiline sünnipäevaline/kohapeal
LINK: https://gateme.com/event/97362/
———————————————————————
LINE UP
Traffic
www.youtube.com/watch?v=FIAqZHBHI0U
Dr Muul (Rämmar)
instagram.com/drmuul/
mixcloud.com/drmuul
Löukii
instagram.com/l6ukii
soundcloud.com/l6ukii
Birddy
instagram.com/djbirddy
soundcloud.com/djbirddy
PHV
instagram.com/vladlenpahv
———————————————————————
Tegu on 18+ üritusega, sissepääs vaid dokumendi alusel!
Uksed: 22:00 🚪
Näeme parklas!!
>>>>>>>>>>>>>>>>>>>>>>>>>>>>>>>>>>>>>>>>>>>>
!ENGLISH!
Can you frickin' believe it….the last party of our big trilogy is finally here! 🥳
↓ "Tudengkonna 102. sünnipäev" is the last step out of three, to become a full valued student↓
A spectacular and LEGENDARY parking lot party, 🅿️ which is the largest of its kind in Estonia, puts a powerful end to the trilogy of parties!
To celebrate the birthday, you must come to the underground parking lot of TalTech (Academia street between 7/1 and 7/2). All students, student-minded, alumni and also representatives of other schools are welcome to Tudengkonna 102. sünnipäev, to celebrate and create memories that will last forever! 🍾
And who else will come, press buttons and eat some cake except everyone's favorite Traffic! 🤩
PS! If you haven't been to a parking lot party, you're not a full valued student! 👎
NB! Everyone is welcome at the party, regardless of the student status.
———————————————————————
TICKETS:
🎟13 € early bird
🎟17 € regular bird
🎟20 € late bird
LINK: https://gateme.com/event/97362/
———————————————————————
LINE UP
Traffic
www.youtube.com/watch?v=FIAqZHBHI0U
Dr Muul (Rämmar)
instagram.com/drmuul/
mixcloud.com/drmuul
Löukii
instagram.com/l6ukii
soundcloud.com/l6ukii
Birddy
instagram.com/djbirddy
soundcloud.com/djbirddy
PHV
instagram.com/vladlenpahv
———————————————————————
The event is 18+, ID document required at the gate!
Doors: 22.00 🚪
See ya!