[26.11] Teknopol
November 26, 2022 @ 23:00

-

05:00

6€ – 10€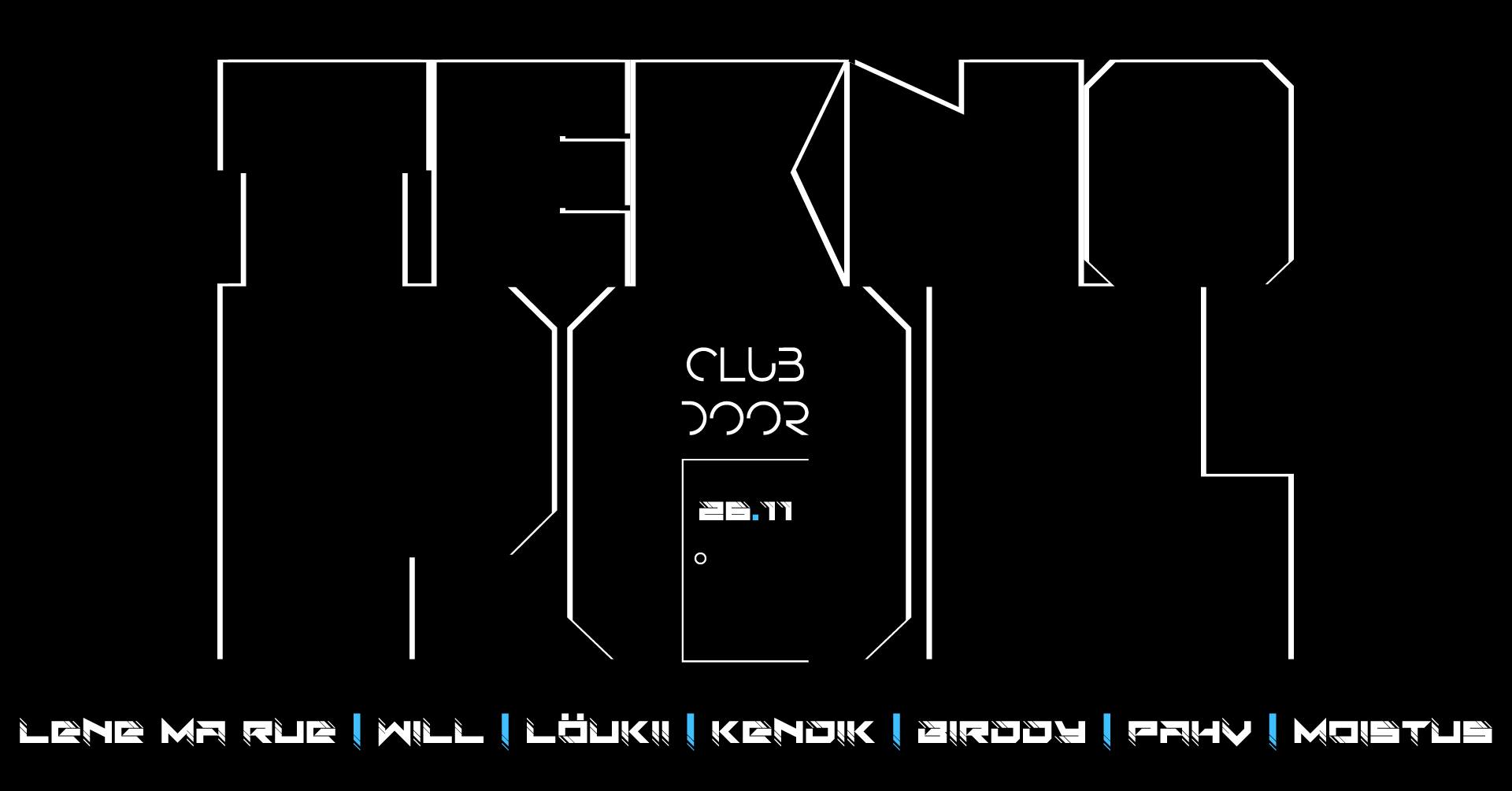 🇪🇪 EST
Uks Berliini põrandaaluse muusika maastikule on avatud.
Esimene samm avastamaks oma tumedamat külge pole sugugi lihtne, mistõttu oleme loonud meloodilisemate taktide saatel hüppelaua kahe maailma vahele resoneerimaks laiema kuulajaskonnaga.
Teknopol on pidu, kus sotsiaalmeedia jääb taskusse ning argimured ukse taha.
🖤🖤
🇬🇧 ENG
The door to Berlin's underground music scene is open.
The first step to discovering your darker side is not at all easy, which is why we have created a springboard with more melodic bars to resonate with a larger audience.
Teknopol is a party where social media stays in your pocket and every day worries behind the door.
🖤🖤
▬▬▬▬▬▬▬▬▬▬▬▬▬▬▬▬▬▬▬▬▬
LINE UP
𝙏𝙚𝙘𝙝𝙣𝙤
– Lene Ma Rue
– Will
– Löukii
𝙏𝙚𝙘𝙝-𝙃𝙤𝙪𝙨𝙚, 𝙅𝙪𝙣𝙜𝙡𝙚, 𝙇𝙞𝙦𝙪𝙞𝙙
– Kendik
– Birddy
– Pahv
– Moistus
▬▬▬▬▬▬▬▬▬▬▬▬▬▬▬▬▬▬▬▬▬
🎟 𝙋𝙄𝙇𝙀𝙏𝙄𝘿 / 𝙏𝙄𝘾𝙆𝙀𝙏𝙎 🎟
6€ early bird
8€ regular bird
10€ late bird
10€ tavapilet kohapeal / regular ticket on the spot
Less queueing more dancing: gateme.com/event/97640/
▬▬▬▬▬▬▬▬▬▬▬▬▬▬▬▬▬▬▬▬▬
Vana-Posti 8, Tallinn, Estonia
BonBon-i varemed – uue nimega Door
Uksed / Doors: 23:00
18+
▬▬▬▬▬▬▬▬▬▬▬▬▬▬▬▬▬▬▬▬▬
*Korraldajatel on õigus teha programmis muudatusi.
*The organizers reserve the right to make changes to the event program.