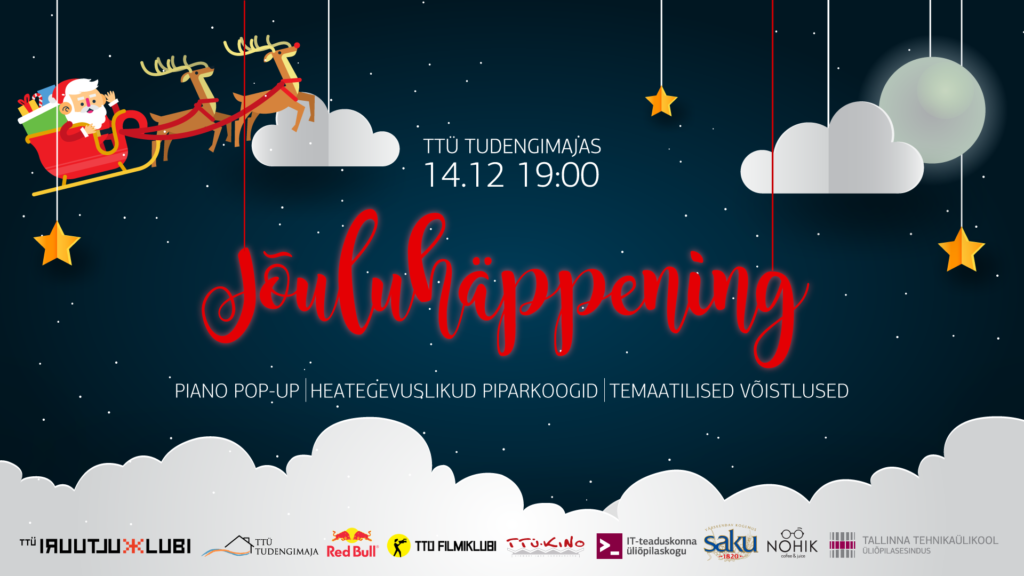 Kas armastad jõule? Kas soovid kiire tempoga tudengielule väikest hingetõmbepausi? Siis on see üritus just Sulle, sest saabumas on rahu ja imede aeg – jõuluaeg. Tule veeda 14. detsembril sõpradega üks imeline õhtu Tudengimajas algusega 19.00 koos akustilise muusika, kingituste, mängude ja kõige muuga, mida jõuludelt oodata oskad.
Jõulumeeleollu aitavad sisse elada:
-Piano Pop-Up duo
-Jõululoos
-Uuelaadsed mängud ja võistlused
-Traditsiooniline söök-jook
Ja veel palju-palju muud
Koostööpartnerid:
-ITÜK
-TTÜ Kino
-TTÜ ÜE
-TTÜ Filmiklubi
-Kohvik Nohik
-Red Bull
Seega pane selga oma lemmikkampsun, haara endaga kaasa villased sokid ja kõik sõbrad, sest üritus on loomulikult TASUTA!
————————–————————–————-
Do you love Christmas? Do you need a break from a fast-paced life of a student? We have something for you! Christmas is time for miracles and peace. Take all your friends with you and come and spend a cosy night with amazing music, gifts, games and everything else you could possibly wish for.
Christmas mood is spread by:
-Piano Pop-Up duo
-Christmas lottery
-Different contests and games
-Traditional Christmas food and drinks
And much more
Event is free, so put on your ugliest Christmas sweater, take warm socks with you, bring all your friends and come spread the Christmas spirit with us!